The Utah Hive Box is quite unique.  It is a true half Langstroth box, 8 1/8″ across and allows for frames to sit side-by-side or end-to-end.  This style of box can be either a medium or deep Langstroth box.  Each individual box or modular component can be removed, as long as locking clips are in place and replaced without disturbing the rest of the hive.  The comb frame is unique too and is a cross between a top bar hive and a regular frame, it needs no foundation!
Eco Bee Box – Utah Hive with universal rabbets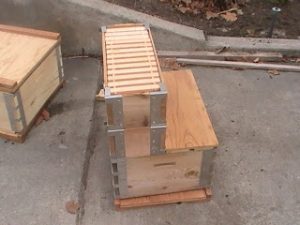 Utah Hive with double shallow comb stacked for initial spring comb
For quick spring comb, this box will generate 26 combs of Spring honey.
Eco Bee Box – Utah Hive with modular sections for easy removal.  Can be removed without disturbing the rest of the hive.
Eco Bee Box – Utah Hive showing a section being removed.
The Utah Hive is an amazing piece of equipment for beekeepers everywhere.
– no upkeep
– no painting
– no foundation
– can be used in many applications
Other applications for the Utah Hive include:
– winter feed box
– Nuc
– Queen rearing
– Comb box
– Observation hive
The Utah Hive Box for comb is a new generation application.  Instead of harvesting frames, uncapping, spinning, renting or buying an extractor, filtering, bottling and paying for bottles, we have this simple process. Place the box on your hive, have the bees fill it, remove and place frames with honeycomb in packages, READY TO SELL!  Place a new frame in the box and repeat it!
If we do things the way we always have, things will remain as difficult and costly.  We have to think smarter. The market tells us they don't trust our bottled honey as it is blended with who knows what.  Honeycomb is clean and attractive to the consumer and now it is easy for the beekeeper.