A few years ago a man called asking for cedar planks so he could make a Warré beehive.  He came over picked what he needed and was on his way.  Later, he returned to show off his masterpiece in photos.  We discussed the benefits he saw, as well those we saw, in the Warré system.  This beehive was developed over a hundred years ago in France by Abbé Émile Warré.  His belief was the hive needed to be closer in size to the hollow of a tree, needed to be inspected once a year during harvest, was to be a vertical top-bar with similar frame, vertical sides and flat bottom, add boxes to the bottom, remove honey from the top, dimensions of 300mm x 300mm x 210mm.
In removals of bees that were naturally living inside trees, we have rarely seen a uniform cavity nor one unobstructed by the attached decaying tree.  A tree in this condition is failing and will eventually fall or break, exposing the colony, forcing them to abandon their home, and exposing their resources to the area's robbing bees.
Later that season, this newly populated colony swarmed, requiring another beehive.  This time an Urban Mini Beehive was purchased, and the swarm was captured.  Since that season, we have had regular contact with this beekeeper and asked if he could write his experiences.  His reply came with photos.
As a beekeeper I've used both Warré hive of my own making and a mini hive from Eco Bee Box.  I started with the Warré having read that it more closely resembles a place bees would inhabit in nature resulting in calmer bees. I have small children so this appeals to me.

A few months later I picked up a mini hive and stocked it with a swarm (from my new Warré). Now

three years later

 I can say that there is no difference in temperament between the two hives as far as I can tell. The mini hive, however, is far easier to deal with.

In both hives there is no queen excluder and the bees draw their own comb.  However, the mini has several advantages. For one, the boxes are smaller and therefor much lighter and easier to handle. In cases where I need to add a box or even move the hive – no special equipment or prep is needed, I just pick it up and go.

Also, in the Warré

,

 the bees build wall to wall and often don't follow the top bars. This can be a problem with the mini as well, but with frames it's much easier to manage.

Both hives stay dry in the winter, the Warré with a quilt box and the mini with a top vent.

One last thing I'll mention is that it's difficult to do splits from the Warré. With the mini I simply remove a few frames and replace them, and within a couple weeks they're drawn out again.

The Warré has been fun and is a good hive, but if I did it again I'd just go with a few mini hives from Eco Bee Box.

-David Nicolay, Utah.
Warré Beehive & a Mini Urban Beehive side-by-side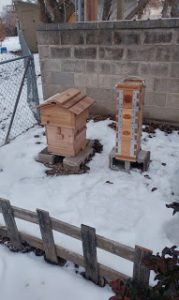 Both of these are natural beehives made of cedar
An Eco Bee Box Mini Urban Beehive can be used just like a Warré beehive, it just has a smaller footprint.  Still natural frames, but the mini utilizes a complete frame but all-natural wax made by the bee.